Modern Picture Frames
Modern Style Picture Frames Custom Made
Modern Picture Frames exude style, and they give any room a smart, contemporary feel. They provide crisp, clean lines and, using our frame builder tool, you can design the size and scale of the frame to perfectly suit both your picture and the space you have chosen to display it.
23mm Wide Flat Barefaced Solid Oak
22mm Wide Flat Black Cube
17mm Square Spotted Warm Gold
Some Inspiration for Your Modern Picture Frames
Modern Picture Frames are, generally, best matched with modern, contemporary artwork. The chic simplicity of a well-designed modern frame is often the ideal way to showcase abstract modern paintings and photography, but that rule should not be followed strictly. The clean, understated lines of a Modern Frame ensure that they will not overpower your picture, so it is possible to use a modern frame with any style of picture, knowing that your choice of frame will enhance the impact of your work of art.
This versatility also applies to the location of your picture frame. A Modern Picture Frame gives you such a range of options in terms of colour and weight that it is possible to place the frame wherever you want to showcase your picture. The strong, clean lines will obviously look elegant and sophisticated in a sleek city-centre apartment, while the understated simplicity of a modern frame will also work superbly in a more traditional home. These frames will also look great in any room, whatever the existing décor, such is their versatile nature.
We allow you to make the most of the versatility of a modern frame by designing your frame yourself, using our handy online picture frame builder tool.
Work out your vision for your artwork and enter your specifications, and we will hand-craft your made to measure picture frame in our own workshops in Manchester and Lancashire, using the highest quality materials and the latest, cutting edge equipment. If you have any questions while you are designing your frame, we will use our 30 years of framing experience to guide you through the process, and you can rest assured that you will receive a completely bespoke and individualised picture frame.
We are a family owned and run business, and we understand how important relationships are. We are proud of our reputation for superb customer service and for superior craftmanship, whatever the size or nature of the job. Whatever vision you have for your modern picture frame, we are confident that we have the experience required to help you achieve it.
Modern Picture Frame Design Ideas
We offer a wide range of modern picture frames with different mount sizes and colours.
A modern look to your framed pictures can be achieved in various different ways. We have selected a range of fantastic picture frames that fit the bill, but if you have any other ideas you want to try, just give us a call and we'll help you put something more creative together.
Bold colours, clean lines and chunky edges are popular choices in this category, but it's as much about the image or object you frame, and where you choose to hang it, that can give the display a truly modern twist.
We offer a wide range of modern picture frames in our online store, that can be made to any size or specification so that even the most adventurously modern displays can be achieved.
Our team will be happy to help you make the best choices for your image if you need help.
Whichever colour or style of frame you choose, a modern look can be achieved by hanging your picture in a unique, modern way.  Overlapping the frames creates a really interesting perspective and is sure to catch the eye.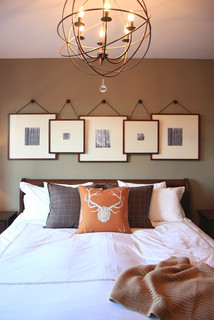 Source: Houzz
There are so many clever design ideas on sites like Instagram, Pinterest , it's easy to find some modern ideas of things to put in a frame.  How about a sound wave of your favourite song?  Or sheet music for your first dance?  If you want to go really modern, you could even create augmented reality artwork for your guests to interact with.
Moving away from the traditional places to hang a picture can sometimes be all you need to achieve a modern display.  Try wrapping a group of picture frames around a corner, using the back of a door, or even use the ceiling.
Source: carlaaston.com