Modern Picture Frames
Modern Style Picture Frames Custom Made
Modern Picture Frames exude style, and they give any room a smart, contemporary feel. They provide crisp, clean lines and, using our frame builder tool, you can design the size and scale of the frame to perfectly suit both your picture and the space you have chosen to display it.
23mm Wide Flat Barefaced Solid Oak
22mm Wide Flat Black Cube
17mm Square Spotted Warm Gold
Some Inspiration for Your Modern Picture Frames
Modern Picture Frames are, generally, best matched with modern, contemporary artwork. 
The strong, clean lines will obviously look elegant and sophisticated in a sleek city-centre apartment, while the understated simplicity of a modern frame will also work superbly in a more traditional home. These frames will also look great in any room, whatever the existing décor, such is their versatile nature.
We allow you to make the most of the versatility of a modern frame by designing your frame yourself, using our handy online picture frame builder tool.
Work out your vision for your artwork and enter your specifications, and we will hand-craft your custom modern picture frames in our own workshops in Manchester and Lancashire, using the highest quality materials and the latest, cutting edge equipment. If you have any questions while you are designing your frame, we will use our 30 years of framing experience to guide you through the process, and you can rest assured that you will receive a completely bespoke and individualised picture frame.
We are a family owned and run business, and we understand how important relationships are. We are proud of our reputation for superb customer service and for superior craftsmanship, whatever the size or nature of the job.
Whatever vision you have for your modern picture frame, we are confident that we have the experience required to help you achieve it.
Use our easy online builder to design and order a bespoke picture frame today.
Why Choose a Modern Style Photo Frame?
Choosing a contemporary picture frame to decorate your home can truly bring the space together, and offer a unique twist without being a disruptive decoration. 
The chic simplicity of a well-designed modern frame is often the ideal way to showcase abstract modern paintings and photography, but that rule should not be followed strictly. The clean, understated lines of a Modern Frame ensure that they will not overpower your picture, so it is possible to use a modern frame with any style of picture, knowing that your choice of frame will enhance the impact of your work of art.
This versatility also applies to the location of your picture frame. A Modern Picture Frame gives you such a range of options in terms of colour and weight that it is possible to place the frame wherever you want to showcase your picture.
The sleek and modern design of our contemporary photo frames lends itself to many uses, such as multi photo frames with many pictures or pieces of artwork, or poster frames. You can be sure that whatever you are choosing to display will look right at home, whatever style of decor you have adopted.
You can also customise our modern photo frames with endless combinations of colours and finishes. With elegant and clean designs, you can make your new modern wall frame truly unique, without worrying about going out of style.
What Type of Decor Would Fit a Modern Picture Frame?
Modern Picture Frames are a great fit for many types of decoration styles because of their simplistic and clean lines.
Some of the styles that we recommend to fit contemporary style picture frames are:
Minimalistic:

Modern frames often have clean lines and a sleek appearance, making them a great fit for minimalistic backgrounds. They can complement a neutral colour palette, uncluttered spaces, and a focus on simplicity and functionality.

Contemporary:

Modern frames naturally align with contemporary design aesthetics. They can harmonise with bold colours, unconventional furniture shapes, and a mix of different textures and materials. They add a touch of sophistication and modernity to contemporary spaces.

Industrial:

Modern frames can also work well in industrial-themed backgrounds. Their sleek design can provide a visual contrast to the raw and rugged elements typically found in industrial spaces, such as exposed brick, concrete floors, and metal accents.

Scandinavian:

The clean and minimalist nature of modern frames makes them a suitable choice for Scandinavian-inspired interiors. Their simplicity and functionality align with the Scandinavian design principles of clean lines, natural materials, and a focus on light and airy spaces.

Mid-century modern:

Modern frames can blend seamlessly with mid-century modern backgrounds. With their sleek and streamlined design, they can complement the iconic furniture pieces and geometric patterns often associated with this design style.

Eclectic:

Modern frames can be versatile enough to work in eclectic interiors, which combine various design elements and styles. They can serve as a unifying factor, providing a contemporary touch that ties together different artwork and decor pieces.
Remember, modern frames are adaptable and can fit well in many settings. It ultimately depends on how you incorporate them into your space and the overall aesthetic you're aiming to achieve.
Very pleased. Delivery earlier than promised. Quality of product excellent. 10/10.
Amazing comms and service. Perfectly wrapped and delivered next day. Thank you.
Rachel Horsfall
2023-06-12
Lovely bespoke frame, excellent quality, good price and packaged very well. Really pleased. First time I've used this company, would definitely recommend and use again.
Very pleased with the frame. Well made and reasonably priced. It came beautifully packaged with clear instructions for hanging. I will use Picture Frames Direct again.
Great value product with so many color and style combinations best I was able to find on line - and with great service too
Really pleased with the mount , quality service, packing and delivery - would certainly recommend 👌
Brendan Mc Dermott
2023-03-14
Excellent service. Purchased a custom made frame, which fits perfectly and arrived in pristine condition. Would definitely recommend.
Henry Anderson
2023-03-14
Really nice frame and mount, quick delivery too. Just in time for Mother's Day - thank you!
My experience from start to finish with Picture Frames Direct was outstanding. I had an odd size print and was able to order a bespoke frame with a mount and the resulting frame just looks gorgeous. Delivered within the stated timeframe and well packaged so there was no fear of damage. Excellent quality at a good price. I would highly recommend.
Frames look great. Delivered promptly as promised.
How Can I Use Modern Picture Frames?
We offer a wide range of modern picture frames with different mount sizes and colours.
A modern look to your framed pictures can be achieved in various different ways. We have selected a range of fantastic picture frames that fit the bill, but if you have any other ideas you want to try, just give us a call and we'll help you put something more creative together.
Bold colours, clean lines and chunky edges are popular choices in this category, but it's as much about the image or object you frame, and where you choose to hang it, that can give the display a truly modern twist.
We offer a wide range of modern picture frames in our online store, that can be made to any size or specification so that even the most adventurously modern displays can be achieved.
Our team will be happy to help you make the best choices for your image if you need help.  Build your custom picture frames online with our easy frame builder today.
Whichever colour or style of frame you choose, a modern look can be achieved by hanging your picture in a unique, modern way.  Overlapping the frames creates a really interesting perspective and is sure to catch the eye.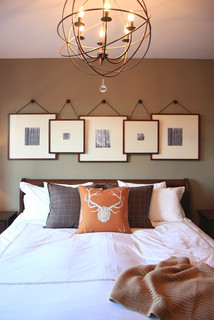 Source: Houzz
There are so many clever design ideas on sites like Instagram, Pinterest , it's easy to find some modern ideas of things to put in a frame.  How about a sound wave of your favourite song?  Or sheet music for your first dance?  If you want to go really modern, you could even create augmented reality artwork for your guests to interact with.
Moving away from the traditional places to hang a picture can sometimes be all you need to achieve a modern display.  Try wrapping a group of picture frames around a corner, using the back of a door, or even use the ceiling.
Source: carlaaston.com